ROBERTS COVERED BRIDGE
Located on South Beech Street in Eaton
Early on, a toll road was established between Eaton, Camden, Somerville and Rossville. This toll road, about 3 miles South of Eaton, crossed Seven Mile Creek on Orlistus Roberts property. Later on, this toll road became a free pike and eventually part of St. Rt. 127. Around 1935 St. Rt. 127 was moved west of the Pennsylvania Railroad. Then the free pike mostly became a road traveled from farm to marketplace and became a lightly traveled township road. At the height of this roads travel, Orlistus Roberts was awarded a contract to build a two-lane covered bridge.
In 1804, Theodore Burr invented and patented the Burr Arch design. This design includes a large arch with multiple kingpost truss. The Roberts Bridge was built with three arches. Orlistus Roberts constructed the two-lane covered bridge out of the poplar, beech and oak timber on his farm. He also forged the bolts in his own shop.
Roberts Bridge, as it is still known to us today, was maybe one of his greatest undertakings and the last. In 1829 construction began and was near completion when he became ill and died on August 20, 1830. James L. Campbell, at age 17 and who was Orlistus' Apprentice, completed the bridge. It was painted red, which was a popular color for bridges prior to the mid 1800's.
Being the oldest covered bridge remaining in Ohio, it is also the next to the oldest in the United States. It is the only double barreled covered bridge and one of six, still standing bridges in this Country.
Due to arson in August 1986, funds were raised to move and rebuild the covered bridge. The bridge was relocated in 1991 from Old Camden Road to South Beech Street in Eaton, where it still stands today.
BEGAN IN 1829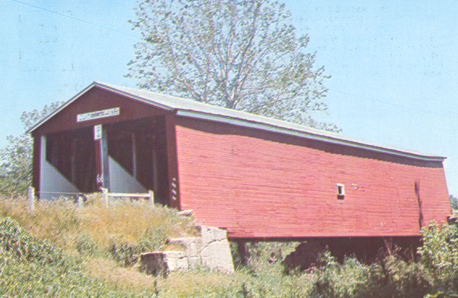 RESTORATION OF THE ROBERTS COVERED BRIDGE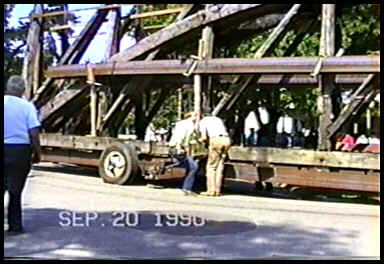 PRESERVING THE PAST TODAY